What is
Infrared Sauna
Infrared saunas are a type of sauna that uses heat and light to help relax and detoxify the body. Unlike a normal sauna that heats up quite quickly, it relaxes the body and opens up the pores.
Traditional saunas use temperatures as high as 180 to 210F, which can overwhelm those who are more sensitive to the heat. Infrared sauna uses a much milder temperature environment of between 100 to 130F. However because the heat of an infrared sauna travels much deeper into the body, they are able to cause a more vigorous sweat at a lower temperature and remove toxins, making it at least 6 times more effective in detoxification than an overly-hot traditional sauna room. As your body temperature heats up, it increases sweat production to cool itself. Then your heart works harder, pumping blood at a faster rate, boosting circulation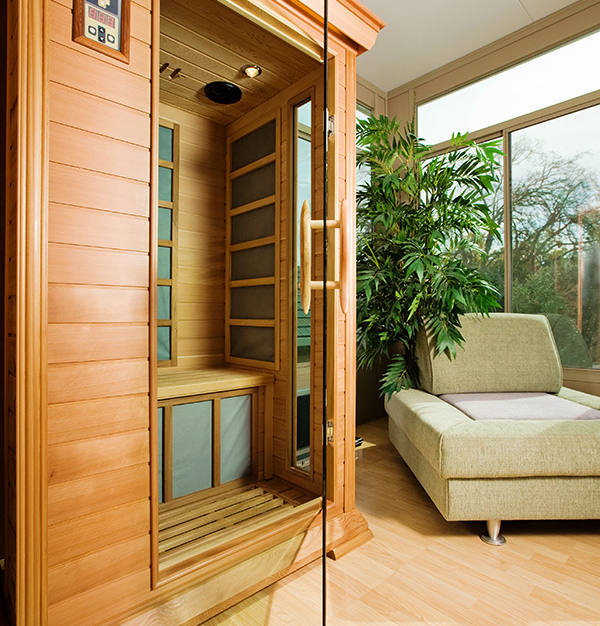 benefits of
Infrared Sauna
Detox through sweating (7 times more than a traditional sauna)
Reduce chronic pain
Purifies skin
Lowers blood pressure
Help with lung related conditions
Helps to eliminate parasite & chronic infection
Promotes relaxation
Overall wellness
60 min Infrared Sauna Prices
Pay per visit

Single session:

$65

Second person:

$20

Packages

Package of 6:

$330($55/session)

Second person
$20
Clients From All Over the GTA Choose Our Clinic
Ajax
Aurora
Barrie
Brampton
Brantford
Burlington
Caledon
Cambridge
Concord
East Gwillimbury
East York
Etobicoke
Halton Hills
Hamilton
Innisfil
Keswick
King City
Kitchener
Kleinburg
Maple
Markham
Milton
Mississauga
New Tecumseth
Newmarket
North York
Oakville
Oshawa
Pickering
Richmond Hill
Scarborough
Stouffville
Thornhill
Toronto
Unionville
Uxbridge
Vaughan
Whitby
Woodbridge
I had a very good experience here with my friend. We saw Katrina, and she was amazing. She was insanely friendly, welcoming, funny, and made sure we were comfortable and understood the treatment. She made sure to keep our comfort as her top priority, and I felt very safe. I will certainly recommend her and Angel Hydrotherapy to family and friends, and I will be back to see Katrina again soon for future appointments.
My friend and I had a great experience with Katrina! She's so welcoming, knowledgeable and warm.. she goes above and beyond to make her clients feel comfortable. Excellent ambiance and cleanliness, I would recommend Angel Hydrotherapy to others!
The location is a very nice and relaxing environment and the staff was fabulous - very friendly and helpful. The procedures/processes were explained incredibly clearly and all of my many questions were answered :). Overall it was a wonderful experience!!
Melissa Magnante
2022-08-06
I received colonic hydrotherapy @ Angel Hydrotherapy and I have nothing but amazing things to say about the experience. The staff is kind/patient, the space is extremely clean and overall they make the experience so pleasant from beginning to end. I look forward to going back soon 🙂
Johanna Parris
2022-08-01
What an incredible experience! I was having a lot of painful gas and bloating, and my dad suggested a colonic would help with it. Fortunately, a colleague of mine referred me to Angel Hydrotherapy, and I'm so happy they did! The staff are very friendly and informative of the process, and make you feel comfortable. Katrina, is very funny, kind, and gives great advice on the additional services to further benefit your health. Annie the owner, is very knowledgeable, friendly and keeps a very clean and welcoming clinic. I have done 4 colonics and an infrared sauna session. I feel absolutely amazing and the painful gas and bloating have gone away. Thank you so much to the staff at Angel Hydrotherapy!
Clean, professional and wonderful staff!
Olivia Bundyra
2022-07-13
Great staff, very professional and kind! I highly recommend going to Annie for any of your colonic needs!
Philosopher Queen
2022-07-13
Great team and comfortable, welcoming environment for exploring alternative methods of supporting your health and staying focused on healthy living. A lot of effort and care goes into educating the client and the difference after each treatment is noticeable and helps reinforce healthier lifestyle choices in day to day living, reinforcing the benefits of each session, while also supporting needed lifestyle changes. Truly transformative.
First time at Angel Hydrotherapy and I had the best experience. Felt comfortable throughout the whole process. The staff is beyond amazing and friendly. If you are thinking of coming here, don't think twice and just book your appointment! You won't regret it
Georgia Allison
2022-06-30
I experienced my first PEMF session yesterday, and I have to say it was the most relaxing and a very informative experience! I decided to visit Annie at Angel Hydrotherapy to see what could be done about my chronic migraines, and with a wealth of knowledge shared, and gentle guidance to gifting me a safe and comfortable session- I left feeling energized, at ease and excited for more! Booked 4x additional sessions straight away.
How long is the session?
The room is reserved for you for 60 minutes.
Is it for everyone?
Not if you have any of the following: Pregnancy, Breast feeding, Severe high blood pressure or low blood pressure, Hemophiliacs/Prone to bleeding, Fever in present, Insensitivity to heat, Acute joint injury within 48 hours. Implants: metal pins, rods, artificial joints or any other surgical implants, Pacemakers/Defibrillator.
Prior to your IR sauna session
Please make sure you are well hydrated before, during and after your Infrared Sauna Therapy Session. It is advised not to eat at least one to two hours prior to your sauna session. Do not use any chemicals or lotions prior to your sauna session. These items may block pores and affect perspiration as well as stain the wood of the sauna.
How do I start?
Book online or contact us
Infrared Sauna is also available as an add-on after/before a Colonic session.